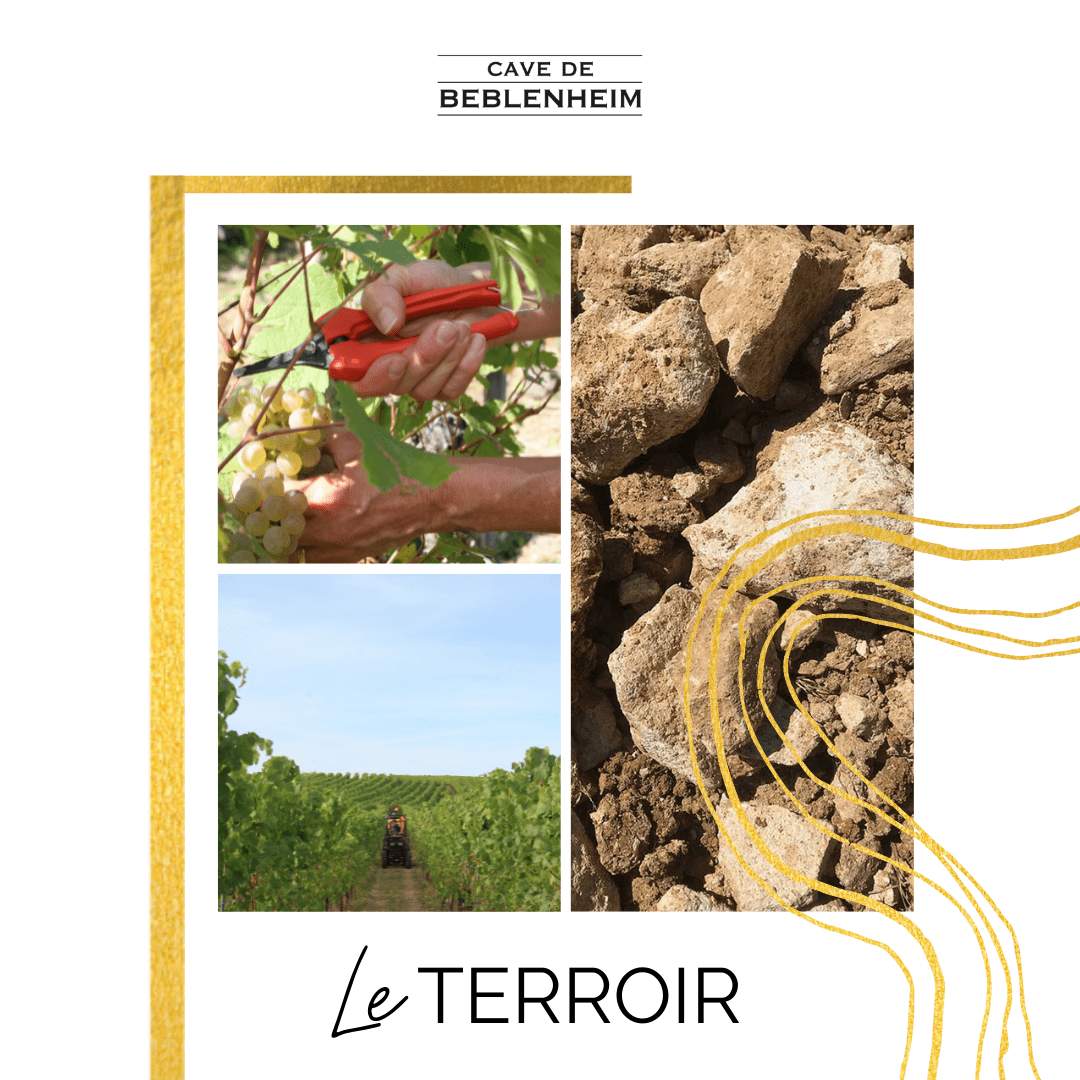 The Grands Crus of the Cave de Beblenheim
Traditionally, Alsace grape varieties are grown on various rootstocks allowing them to adapt to the extreme diversity of soils. They are trained high (0.9 meter to 1 meter above the ground) to avoid spring frosts and are trained on wires to benefit from maximum sunshine.
51 terroirs delimited according to strict geological and climatic criteria constitute the mosaic of the Grands Crus of Alsace.
The AOC Grands Crus are gastronomic wines par excellence which punctuate with happiness each step of a meal.
AOC ALSACE GRAND CRU – CAVE DE BEBLENHEIM
Grand Cru FROEHN (Zellemberg) – Marly clay soil
Grand Cru MANDELBERG (Beblenheim/Mittelwihr) – Marly limestone soil
Grand Cru SCHOENENBOURG (Riquewihr) – Marly sandy gypsum soil
Grand Cru SONNENGLANZ (Beblenheim) – Marno limestone soil
Born of the Earth
The quality of Great Wines depends a lot on the nature of the soil, its situation, the presence of minerals assimilable by the vine. Each type of soil has its own personality.
Born from Heaven
But a favorable soil is not enough: the sunshine conditions, the exposure to the wind or to the morning mists, the presence of a river nearby, all these climate factors influence the soil, the growth and the quality of the grapes.
Born of the Hand
For the alchemy to work, you also need an alchemist. It is here that talent and experience sublimate the natural qualities of the soil and climate. It is the choice of grape variety, the care of the soil, the management of the vineyard, the harvesting conditions, the mastery of the wine making that will make the difference.
This is how a terroir is born!
A complex web of mutual relations between the rocks of the subsoil, the earth, the atmosphere, the weather and the passing of time.
An environment in harmonious relationship with the vine, elements that the winegrower has tamed in his own way for centuries, to bring out the "taste of terroir" in the wine.
The Pinot Gris Grand Cru Sonnenglanz is the sure value of the Cave de Beblenheim among its collection of Grand Cru, this wine gives its letters of nobility to the Cave since its arrival.